We recently welcomed St. Brigid's Creamery to the 100km Foods family, onboarding their Organic 84% A2A2 Grass-Fed Jersey butter. The flavour and texture of this butter aren't the only reasons that it is a truly standout product in our offering. The story behind how this butter came to be is equally as important.
When you purchase St. Brigid's Creamery butter from us, you're supporting a special producer. St. Brigid's is a very niche producer, tiny in the grand scheme of things when it comes to butter production. They keep with tradition of proper old school butter while implementing practices to adapt to our changing world and the complex dynamics that this presents.
This is a producer that aspires to offer a butter that is not just the best-tasting and most enjoyable, but whose outputs are also the best for our environment and our communities. They do this through their commitment to holistic management and regeneration, supporting innovation in the dairy space to help challenge the status quo.
In this blog post, we're going to take a deeper look at the who, why, what, where, and most importantly, how behind St. Brigid's Creamery.
The WHO: farmer Bill Van nes BECOMES A BUTTER PRODUCER
Bill van Nes is a 5th generation dairy farmer and first generation organic farmer committed to excellence and regeneration and he is the farmer behind the A2A2 single-herd Jersey cream used to make St. Brigid's Creamery butter. He actually comes from a long line of Dutch pastoralists that have been dairy farming on both sides of the Atlantic.
Bill's grandparents moved to Southwestern Ontario in the 1950s, and in the early 1990s, Bill started dreaming up what kind of farming he saw himself doing. He started testing out some grazing programs at his parents' conventional dairy farm, something that was even less commonplace then. After he got married and started his own family, Bill took the leap and established St. Brigid's Dairy in 2009, an organic Jersey dairy farm.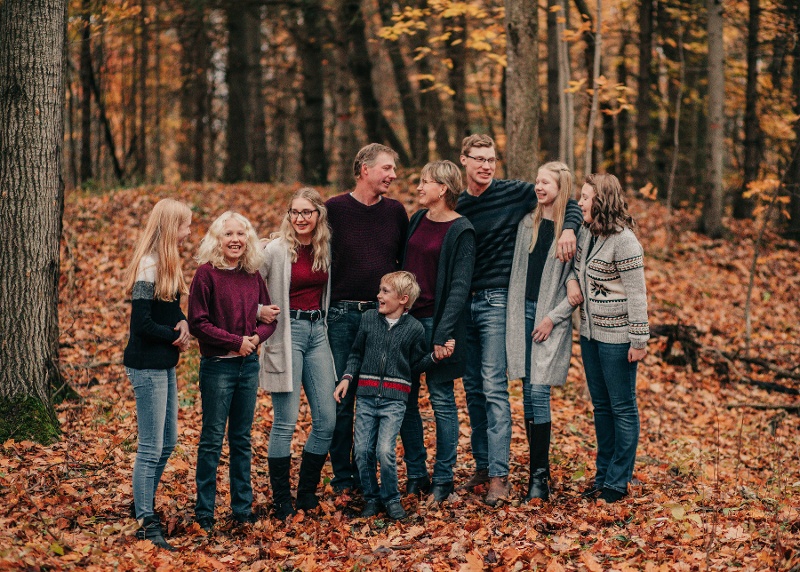 Bill, already a collector of old butter churns and paraphernalia and amateur butter maker at home, had dreamed of one day making butter when he started farming organically and independently in 2009. He briefly scoped this in mid 2010s with the Dairy Board and a colleague who had started to process their own dairy around then.
This eventually led Bill to work with Emerald Grasslands to produce a line of single-herd, Organic Grass-Fed Jersey Butter. After they unfortunately went under, he couldn't pass on the opportunity to build on what Emerald Grassland started through St. Brigid's Creamery. This also coincided with Bill's drive to continue distinguishing his practices and commitment to regeneration to showcase the potential this very niche and special dairy--he would select his breed to be 100% A2/A2 and become Animal Welfare Approved by A Greener World.
He now has his eye on becoming the first dairy that is Regenerative Organic Certified through the Rodale Institute and is a candidate to become a Regional Hub for the Savory Institute which would among other things, help validate the farm's contribution to building soils and contributing to climate-crisis solutions.
After a year of planning and hard work, Bill finally completed 3 trial shipments of milk during the Spring Flush of the 2022 Pasture Season (which is the butter now available through us)!


The WHAT: 100% A2A2 Single-Herd Jersey Cream
We asked St. Brigid's Creamery why they use A2A2 Jersey cream to make their butter and their answer speaks volumes about the passion they have for the raw ingredients and people behind their butter: "We are making butter because we use this Jersey cream."
10 years ago, Bill started selecting and breeding his Jersey herd in response to a growing number of people are finding this dairy easier to digest. Essentially, all Ontario pooled dairy (meaning, dairy that is sourced from different farms and then shipped and pooled for processing by the Dairy Farmers of Ontario) contains both A1/A2, as most cows have the A1 beta casein, which can be found by some to be more difficult to digest. Because St. Brigid's butters are 100% sourced from Bill's single A2/A2 herd that graze the van Nes family farm, they can guarantee their product to be A2/A2.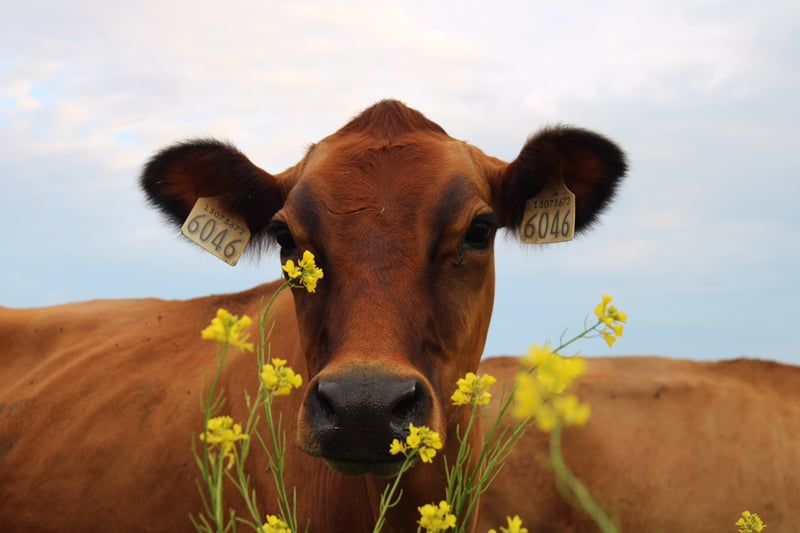 For those unfamiliar, Jersey cow's milk has a higher fat content than any other breed, so the cream produced from this milk is chock full of that clean and rich flavour that is signature of their butters. St. Brigid's is actively working with a couple of different labs to better understand the particularities of Jersey cow's milk that contribute to its unique flavour. As we know, texture also affects flavour so this is why we choose to churn to the European style of 84% butter fat.
Jersey milk, and therefore its cream, also has added nutritional benefits. This milk, and therefore its cream, has a higher amount of beta carotene, which is absorbed from the grasses that the animal forages on. This is what gives this butter a deeper yellow hue than any other Ontario grass-fed butters. When we consume these beta carotenes, Our bodies uses it and converts it into vitamin A, which is great for our skin, eyes, and overall immune system. Similarly, this milk presents better Omega 3 to Omega 6 fatty acid ratios, which are also beneficial to our overall health.
Whereas Jerseys may not be able to produce as much milk as a Holstein-Fresian cow, that is of little importance to St. Brigid's because they produce the right amount of the superior milk that they want to employ to make their butters. They feel that this is how they can do justice to this wonderful cream and proudly present you with a world-class butter with flavour, colour, and mouthfeel that is miles ahead of what is found locally.


The where, WHY & HOW: St. Brigid's Dairy Farming & Butter Production
On The Farm
St. Brigid's recognize that the industry needs to change and they see the urgency of helping lead the way. They recognize the world is changing and as many individuals consider limiting or stopping the consumption of dairy, they really want to showcase the potential for the good that can still come from managing lands regeneratively.
The enjoyment and satisfaction from consuming delicious and nutritious products that directly come from operations that help restore balance in nature and regenerate soils, and have the potential to regenerate community, is an effort St. Brigid's Creamery is wholly dedicated to.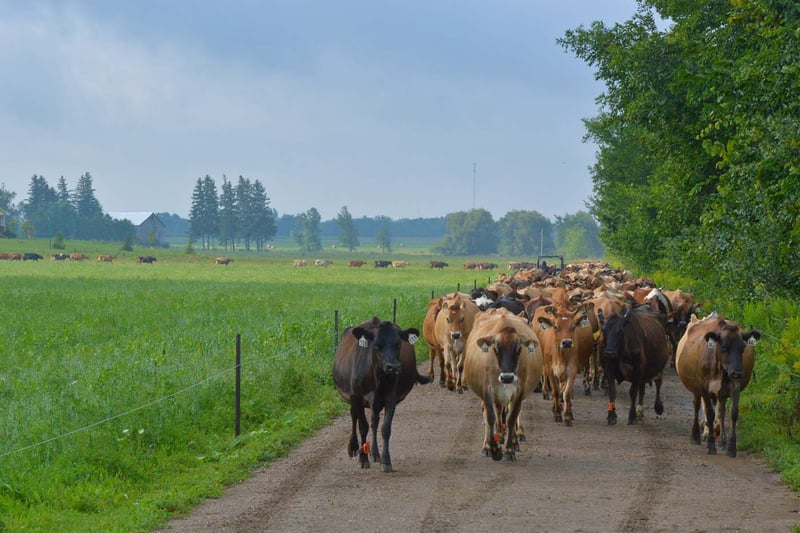 The following is a list of practices that Bill maintains on his farm, some of them for 12 years now, since he split from the conventional family operation to start his own organic Jersey dairy farm, St. Brigid's Dairy:


Reduced tillage of pastures and maintaining of permanent grassland in others (including agroforestry, silvopasture, and perennials, including native vegetation conservation)
Planting cover crops, intercropping, companion cropping, diverse crop rotations
Pollinator buffers, habitat conservation/creation/restoration, windbreaks, riparian buffers
Adaptive multi-paddock grazing, including mob grazing, integrated crop and livestock
Water management for conservation
Organic inputs, manure, no synthetic pesticides, no synthetic fertilizers
They also hold the following certifications:


Organic Certification by Pro-Cert (St. Brigid's Creamery)
Regenerative Certified by Rodale Institute, pending
Certified Animal Welfare Approved by A Greener World
Grass-fed Certification by Dairy Farmers of Ontario
Savory Institute's Regional Hub Candidate 2023
Overall, these are summarized by Bill's drive and purpose to integrate patterns observed and biodiversity found in nature into his agricultural practices. These are holistically beneficial for the herd, the land, the biodiversity that exists within it (by building systems resilience), and, they believe, is directly related to this butter being as delicious as it is.
Butter Production
St. Brigid's Creamery's butter making process involves the collaboration of 3 main players: the farmer (Bill Van Nes, St. Brigid's Dairy), the separator (Walker's Dairy), and the butter maker (Alliston Creamery). Guillermo from St. Brigid's Creamery noted that this may not be what people imagine being required for butter to be made, but it would not happen without these partnerships! There aren't many dairy processors in Ontario that would deal with such a small-batch and niche offering as St. Brigid's Creamery butter.

St. Brigid's Creamery do a couple of things differently than most other butter producers:


They are the only producers that use 100% single provenance (farm and herd) A2/A2 Jersey cream for their butter.
Their butter is barrel-churned as butter was traditionally churned, which is gentler on the fat structures of the cream.
For their salted butter, they use hand-harvested Canadian sea salt from one of our other producers, Vancouver Island Sea Salt, which is made in small batches, going through a 7 stage filtration system removing contaminants and microplastics.
They churn their butter to the European standard of 84% MF, which is substantially better than the North American butter standard of 80% MF.
All of these practices in their butter production work together to create a final product that is truly exceptional in both flavour and texture.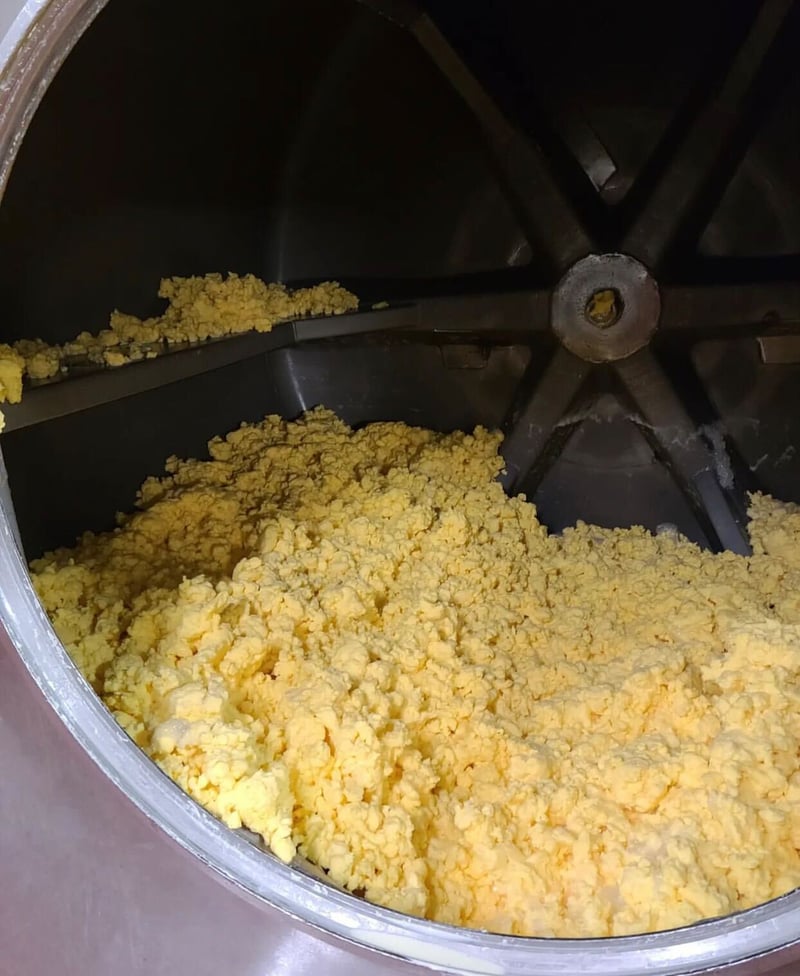 WHY You As a Chef Should Be Excited
St. Brigid's Creamery understands how hard you and your teams work to offer your guests the most delicious food and best possible dining experience at your restaurants. They want you to know that they do the same and feel that same way about offering you the very best butter than can be made in our province for you to share with your guests. You've likely tried the famed butters from France, Ireland and beyond and now you can consider offering a world-class butter that is churned just over 1 hour north of Toronto.
St. Brigid's Creamery butter has received rave reviews so far from our chefs and has been hailed as being perfect for the table, be it as part of bread service or appetizers. Their butter is also brilliant in the kitchen (for sautéing, confits, bastings, and sauces) and stellar in your bread and pastry programs, though we recognize its cost may be harder to justify in its current 250g presentation.
This butter may make you pause for an instant and take you back to that special time when you first tried this butter abroad, or may create a new point of reference from which you'll judge all other butters.
Try their butters and taste the difference for yourself.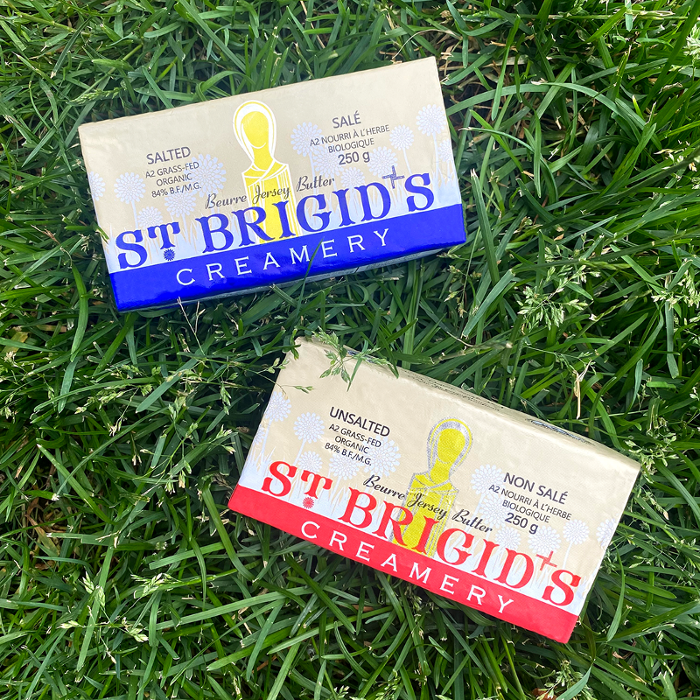 Acknowleding the trailblazing work of emerald grasslands
Guillermo Anderson of St. Brigid's Creamery emphasizes that without Emerald Grasslands, who fought tooth and nail to open the door and show the province what could be done with a premium Jersey butter in 2018 when they made their first batches of butter with Bill's Jerseys' milk, St. Brigid's Creamery wouldn't exist.
It was Emerald Grasslands who saw where the market was going and what Bill was doing and realized they could offer a butter that we hadn't seen made locally and paved the way for St. Brigid's Creamery to continue this journey.