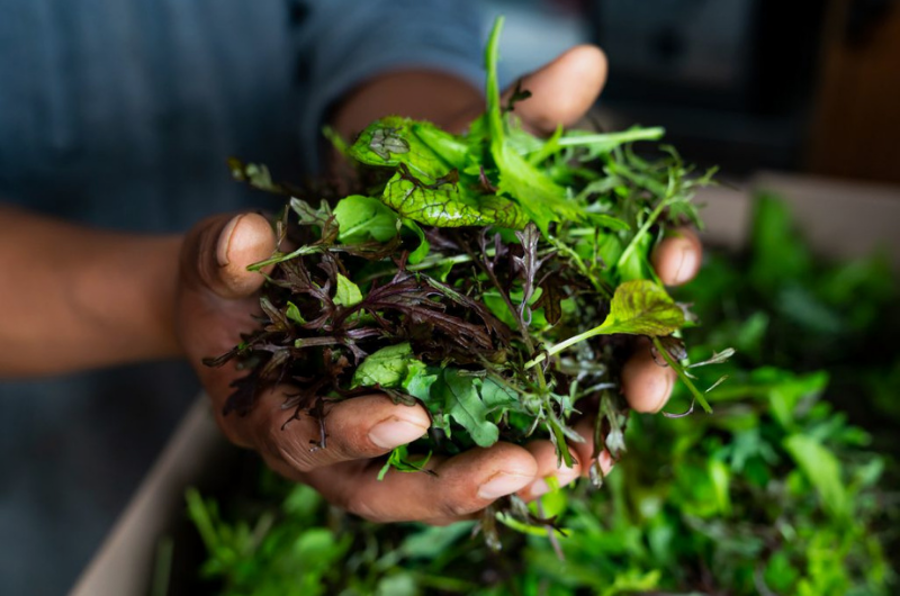 "If you've never heard about the amazing potential of regenerative agriculture and land use practices to naturally sequester a critical mass of CO2 in the soil and forests, you're not alone. One of the best-kept secrets in the world today is that the solution to global warming and the climate crisis (as well as poverty and deteriorating public health) lies right under our feet, and at the end of our knives and forks." - Ronnie Cummins, Regeneration International Steering Committee Member
It is no secret however, that we need to radically transform our food systems and commit to real substantive change in order to fight our current climate crisis.
Many farmers and agricultural workers are already on the front lines of climate change and are intimately aware of the warning signs of climate change: worsening rates of soil erosion, droughts, rising temperatures and crop failures. As a result, farmers are already working to transform their practices and their lands in order to mitigate or reverse some of the effects of climate change. These agricultural practices are what we call regenerative agriculture.
What is Regenerative Agriculture & Why Is It Important?
Regenerative agriculture takes sustainable practices beyond simply working to reduce our CO2 emissions. Regenerative agriculture centres on the idea that by integrating a series of holistic organic farming principals can not only reduce CO2 emissions, but actually sequester existing carbon in our atmosphere within their soil, transforming their land into a carbon sink. Carbon sinks are anything that absorbs more carbon from the atmosphere than it releases (for example, the Earth's oceans and forests) are critical in regulating global temperatures and atmospheric health. As we know, these carbon sinks are disappearing at an alarming rate.
At 100km Foods, we are lucky enough to partner with some amazingly innovative and proactive farmers, who recognize the climate crisis, the role agriculture has in it and not only implimenting regenerative practices on their farms, but sharing this knowledge to help other farms follow suit.
This shared knowledge is absolutely vital as widespread adoption of regenerative agricultural practices across the world is a necessity. According to the Rodale Institute White Paper, by making a substantive change in our food systems to regenerative practices, we could sequester more than 100% of current annual CO2 emissions.
Regenerative agriculture at the new farm
The New Farm was one of our first farm partners to transition their farm to regenerative agricultural methods of land management and owners Brent Preston and Gillian Flies are not only a wealth of knowledge about what it takes to implement regenerative agriculture but they understand the importance of sharing this knowledge so that other farms can implement these changes.
Gillian is hard at work educating other farmers in the Ontario region about how to incorporate these land management methods. Gillian is a member of the Farmers for Climate Solutions, a national coalition of farm-led and farmer-supporting organications who believe that agriculture must be part of the solution to climate change.
This alliance works to advance agricultural policies and programming that support farmers to reduce emissions and build resilience in the face of climate change. By creating space for farmers to share stories about climate impacts, practical solutions and policy recommendations, they seek to create a dialogue between farmers, the public and decision-makers to find practical climate solutions.
Gillian is also President of the Canadian Organic Growers, a national organic farmer and consumer association that offers training and resources to raise awareness about organics and assist farmers and gardeners in adopting sustainable and commercially viable, organic production methods.
The New Farm is a "no-till" farm. Through no-tilling, they have seen their soil sequester more carbon and an overall improvement in their soil health. They also have a herd of 40 cows on their land who are on a precise rotational grazing schedule to help fertilize the soils. They've also planted over 10,000 trees on their land and have installed solar panels. All of these things are working together to increase biodiversity and sustainability on their farm.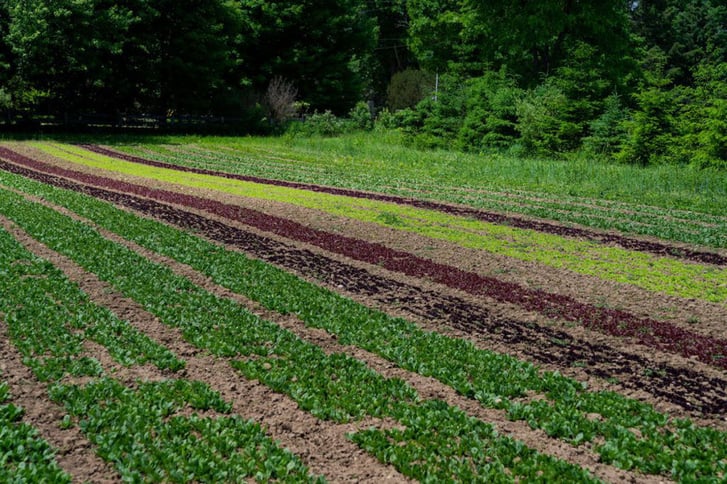 Regenerative agriculture at St. Brigid's Creamery
St. Brigid's is another of our farm partners who recognize that the widespread change needed in the agriculture industry and they see the urgency of helping lead the way. In response to the climate crisis, many individuals have considered limiting or stopping the consumption of dairy, recognizing the impacts that cattle farming can have on climate change. St. Brigid's Dairy however, remind us that it truly is the "how" not the cow and leads by example to showcase the potential for good that can still come from managing lands regeneratively in dairy production.
They aspire to offer a butter that is not just the best-tasting and most enjoyable, but whose outputs are also the best for our environment and our communities. They do this through their commitment to holistic management and regeneration, supporting innovation in the dairy space to help challenge the status quo.
Through regenerative land management on their dairy farm, St. Brigid's Dairy is helping restore balance in nature and regenerate soils for carbon sequestration while producing organic, nutritious and premium quality A2A2 Jersey butter.
The following is a list of practices that St. Brigid's maintains on their dairy farm:


Reduced tillage of pastures and maintaining of permanent grassland in others (including agroforestry, silvopasture, and perennials, including native vegetation conservation)
Planting cover crops, intercropping, companion cropping, diverse crop rotations
Pollinator buffers, habitat conservation/creation/restoration, windbreaks, riparian buffers
Adaptive multi-paddock grazing, including mob grazing, integrated crop and livestock
Water management for conservation
Organic inputs, manure, no synthetic pesticides, no synthetic fertilizers
They also hold the following certifications:


Organic Certification by Pro-Cert (St. Brigid's Creamery)
Regenerative Certified by Rodale Institute, pending
Certified Animal Welfare Approved by A Greener World
Grass-fed Certification by Dairy Farmers of Ontario
Savory Institute's Regional Hub Candidate 2023
Overall, these are summarized by Bill's drive and purpose to integrate patterns observed and biodiversity found in nature into his agricultural practices. These are holistically beneficial for the herd, the land, the biodiversity that exists within it (by building systems resilience), and, they believe, is directly related to this butter being as delicious as it is.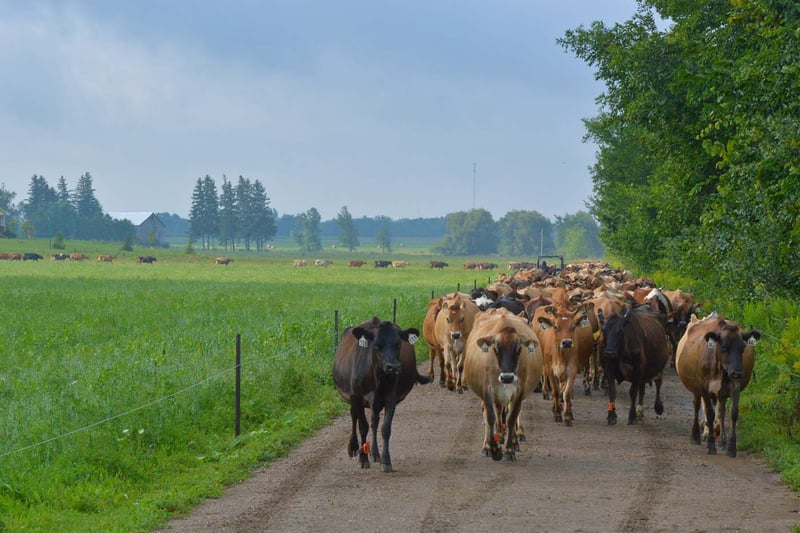 Regenerative agriculture at VG Meats
VG Meats is family owned and operated, with four brothers – Cory, Chad, Kyle and Kevin – at the helm of the operation. Their family roots as butchers extends back generations – their grandpa Cornelius Van Groningen worked as a black market butcher in Amsterdam during WWII, hiding livestock from German troops!
VG Meats have their own bulls from whom they breed the rest of the herd. They put a big emphasis on developing their own genetic stock because the bulls from their farm are acclimated to Ontario's environment, and they think this creates a resilient and healthy line of beef cattle.
VG Meats is dedicated to sustainable farming and impliment many regenerative agricultural practices on their farms to create specific environments that help sequester carbon and reduce harmful emissions.
Five years ago, VG began seeking a new way to manage their organization. In that search, they found the work of Allan Savory and immediately recognized regenerative agriculture as what we needed. To VG Meats, regenerative farming means that they are achieving regenerative outcomes. Regenerative outcomes can only be achieved when management is holistic, and that these outcomes work to regenerate our community, our economy, and the ecology of land and water. To VG, regenerative farming means that they take people, the planet, and profit into consideration when making decisions.
As a part of their holistic management, VG Meat's farms have a holistic grazing plan, and a holistic financial plan, and are working to see that every team member has a personal development plan and that they feel supported to exhibit the behaviours that they value. The holistic grazing plan, for example, gets animals to the right place, at the right time, with the right behaviour. Holistic financial planning and social regeneration do similar things for us as well. We have also brought Ecological Outcome Verification to agricultural lands in Ontario.
This year we they applying to become a Savory Hub to train others in Holistic Management techniques and are very excited to bring Holistic Management to more farmers and ranchers here in Canada.
Regenerative agriculture at Y U Ranch
Bryan Gilvsey of Y U Ranch says it best, "Feeding the world while sustaining the health of the planet might be the most important challenge of this generation; success will require the participation of farmers and ranchers everywhere."
As a third-generation farmer and rancher in southwestern Ontario, Bryan understands the intimate relationship between food, farming and natural systems. After the decline of the tobacco industry, Bryan and his wife Cathy shifted their focus from conventional tobacco farming to a regeneratively managed farm raising Texas Longhorn cattle - talk about a complete 180!
After visiting the great grasslands of Kansas, Bryan became intrigued with the vibrancy of the tallgrass prairie ecosystem. This ecosystem is actually native to Ontario and they learned how and why it made sense for their farm. They implimented this ecosystem on their farm and with its 12-to-16-foot-deep root system, it now removes up to 1.5 tons of carbon per acre from the air each year. It is also a rare ecosystem that provides habitat for various endangered species.
This tallgrass prairie grasses also provide a unique element to Y U Ranch's rotational grazing of their Texas Longhorn cattle. The working land on the ranch is all covered in grass but it's truly the type of grass that matters and is what makes Y U so unique. They have both cool season (European heritage grasses that like cool and wet conditions) and the warm season Tallgrass Pairies grasses (described above) in different pastures and hayfields on the farm. The cool season grasses provide fed during the cool, wet spring and fall, but during drought season, the cattle are released into the heat loving native grassland to graze there.
They also established Norfolk County's first-ever flowering hedgerow, a mix of native flowering trees and shrubs planted along the edges of their fields. These provide important benefits for the farm as well as the environment, helping to reduce wind speed to prevent soil erosion and providing nesting habitats and food for various native species of pollinators.
All of this has worked to improve their organic soil content by 50%, reduce erosion and topsoil loss, increase the amount of carbon that their land sequesters from the atmosphere, decreased unwanted pests and increased pollination.
They are really managing their land with holistic regeneration and sustainability in mind. You can learn more about Y U Ranch's sustainability initiatives here.
What you as a chef can do to support regenerative agriculture
As it turns out, chefs and their restaurants can do a lot to support regenerative agriculture.
But, the best way to do this is to prioritize putting products produced using regenerative agriculture on your menus and in your storefronts.
Since restaurants and retailers have hundreds of customers a day, it's also an amazing opportunity to educate consumers. Explain how their food dollars are supporting real environmental change.
Because, let's not forget: thousands of individual choices can add up to make a significant impact!