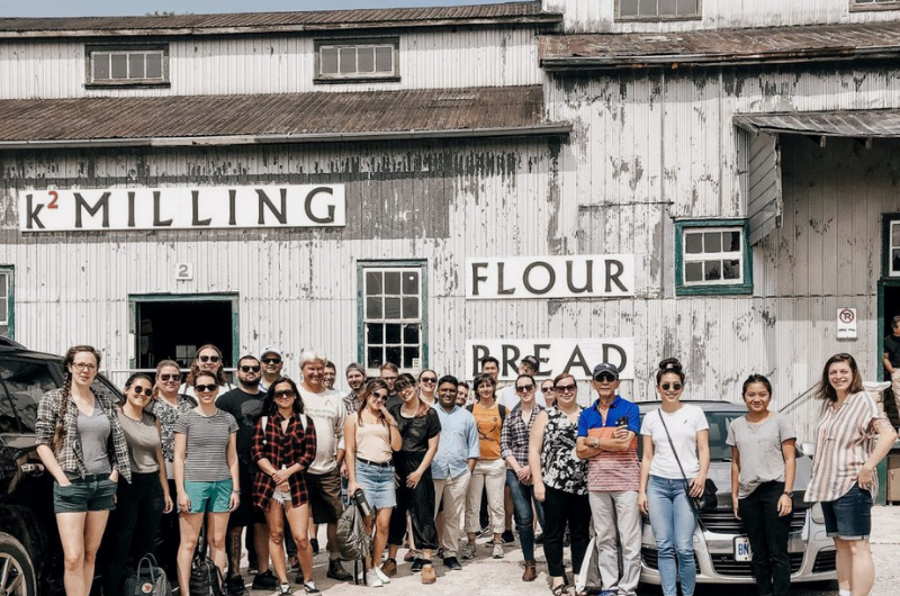 On Monday we wrangled a great group of chefs onto a school bus to attend our first 100km Foods farm tour of 2019 featuring Ontario dairy and grain producers!
We wanted to highlight our regional producers in the Alliston/Shelburne area: quernin' = k2 Milling; churnin' = Alliston Creamery; and herdin' = Sheldon Creek Dairy.
The tour was in partnership with Ontario dairy farmers Sheldon Creek Dairy and the Dairy Farmers of Ontario.
K2 Milling
K2 Milling was the first farm of our first 100km Foods farm tour of 2019 and, as usual, it was a blast! Owner Mark Hayhoe was so welcoming and informative about all things milling and grains.
The chefs toured Mark's small retail shop, which features antiques and curios related to all things milling, while Mark gave us the skinny on his unique mill.
Mark has a long and storied family history of milling, and his evident passion for his family's legacy shines through.
Mark explained how K2 Milling is different than the larger scale, industrial mills: those operations process up to 50 tonnes an hour, whereas Mark and his head miller, Steve, process up to 1 tonne an hour.
Since they mill much smaller batches, they have a lot of freedom to play around and innovate with unique flours: Mark mills quinoa flour, grape flours from dehydrated grape skins, cranberry, blueberry flours… you name it, he's probably tried it!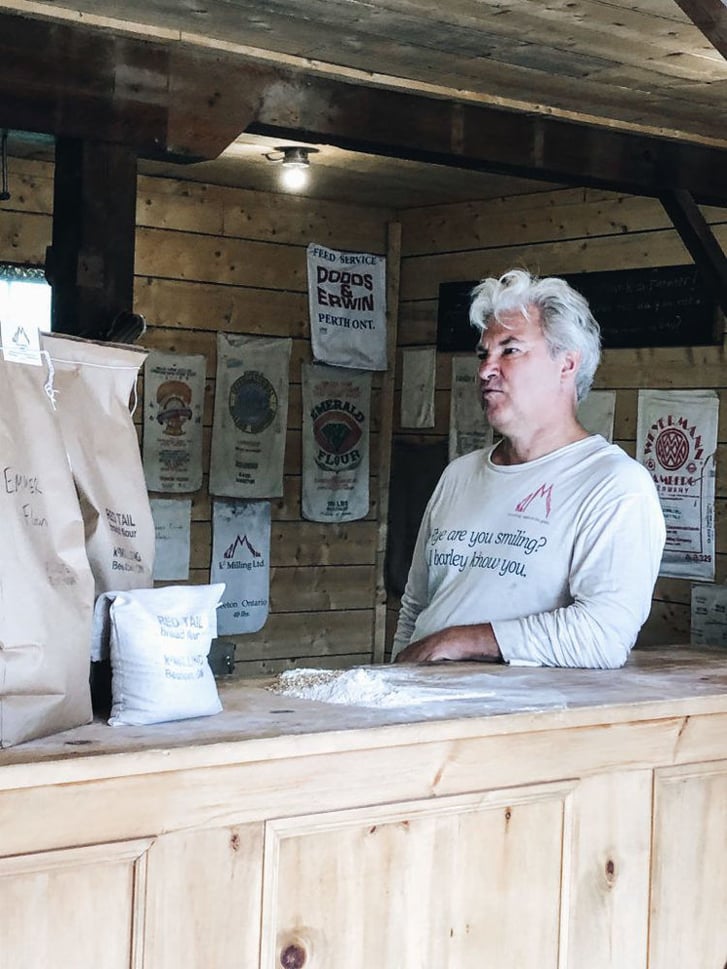 Processing Ontario Grains
Mark sources his grains from farmers throughout Ontario, both conventional and organic. He impressed us all by sharing that, after decades of milling experience, he can smell a bag of flour and determine right away if it's conventional or organic.
Mark is often even able to pinpoint the field or region where it was grown! The terroir of the flour really is that pronounced, but many of us are accustomed to industrially processed flour that doesn't have a strong smell.
K2 Milling's smaller scale, lower heat milling process also ensures the integrity of the nutritional value of the flour stays high. This can mean the density of K2 flours may not be what you expect.
Mark acknowledged his products can occasionally present a challenge for chefs and bakers who haven't use them before. Sometimes, adjustments will need to be made to your recipe and process to receive the best result.
Mark and our sales team are always more than happy to answer any questions you have or make suggestions on how to modify recipes to achieve the best result. The flavour you get from using K2 flours is a far richer one than many larger scale, industrially processed flours.
Alliston Creamery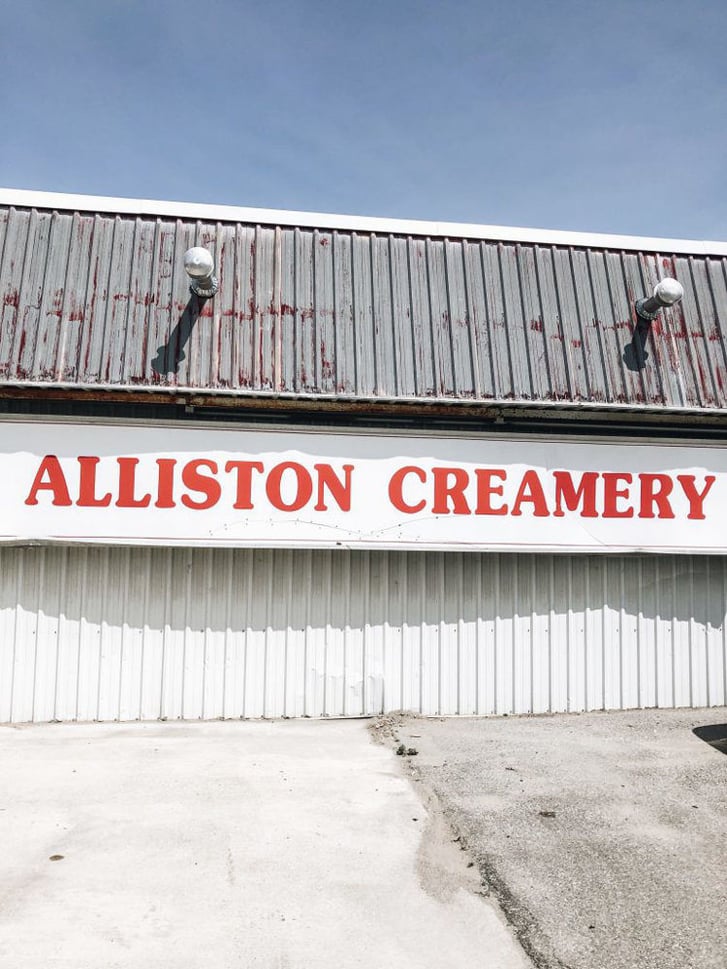 For our next stop on our 100km Foods farm tour, we ventured fifteen minutes down the road to Alliston Creamery, the very last independent creamery in the Ontario dairy industry. The creamery is tiny – our group had to split off into two to be able to tour it!
We saw the room where the cream comes in and begins being heated and churned. It's then transported to another room and from there, the finished butter gets funneled through the machine that turns it into the familiar blocks.
Once it's in block form, it gets wrapped into the butter foil and packed up into boxes. Next, it either gets moved into their freezers or wrapped onto a skid to be shipped out.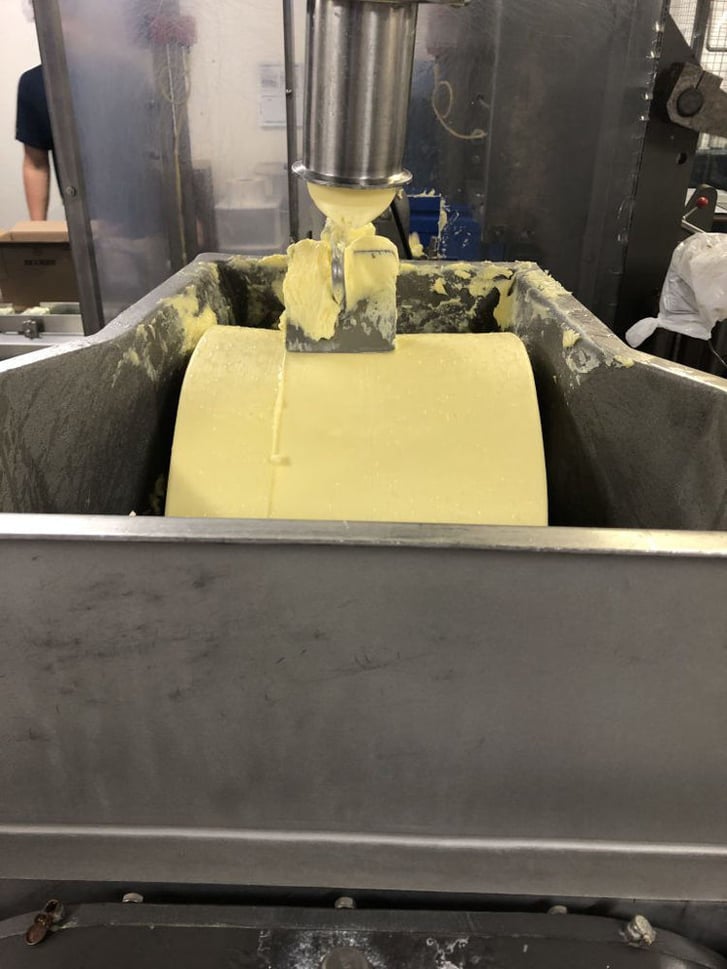 In addition to their own brand of butter called Golden Dawn, Alliston co-packs some other smaller butter products including the Emerald Grasslands grass-fed butter, the Thornloe grass-fed butter, and the Hope Artisan Dairy butter.
Sheldon Creek Dairy
Our third, and final, stop of the day was Sheldon Creek Dairy. When we arrived, we spread out to have a picnic to eat our great local food lunches from Farmr Eatery and sample some Sheldon Creek Ontario dairy products, including their new line of A2 Milk.
A new winery that just opened down the road, Windrush Estate Winery, came and sampled us some of their wines, a lovely bonus to the day!
Sheldon Creek Dairy Owners: The Den Hann Family
Marianne den Haan and the rest of her family have a long farming history. Marianne's Opa and Oma emigrated to Canada from Holland, where they purchased their first dairy cow and founded Haanview Farms in 1953.
After being dairy farmers for many years, the den Haan family expanded their business opening Sheldon Creek Dairy in 2012. Sheldon Creek Dairy is an independent onsite dairy company. They make their whole milk products by sourcing exclusively from their own herd of cows!
We were there to tour their new barn and it was quite a site to behold! Marianne, and her sister Emily primarily look after the herd and put a lot of thought into the design of the new facility. They built the barn by relying on some of the ground-breaking cow behaviour research from Temple Grandin.
Sheldon Creek Dairy's Facility
The result is one of the nicest barns we've ever seen – a beautifully bright and airy facility with lots of fans to keep it cool and well ventilated. The cows are separated out by whether they are lactating or currently pregnant, with sandy beds throughout the whole barn for them to rest on.
Everything is designed in a circle, because that is how cows tend to move. They are encouraged to go outside to the fields to graze each day. However, because of the heat, the cows have only voluntarily gone outside a handful of times so far this summer. They are much more content to stay in their temperate cow paradise!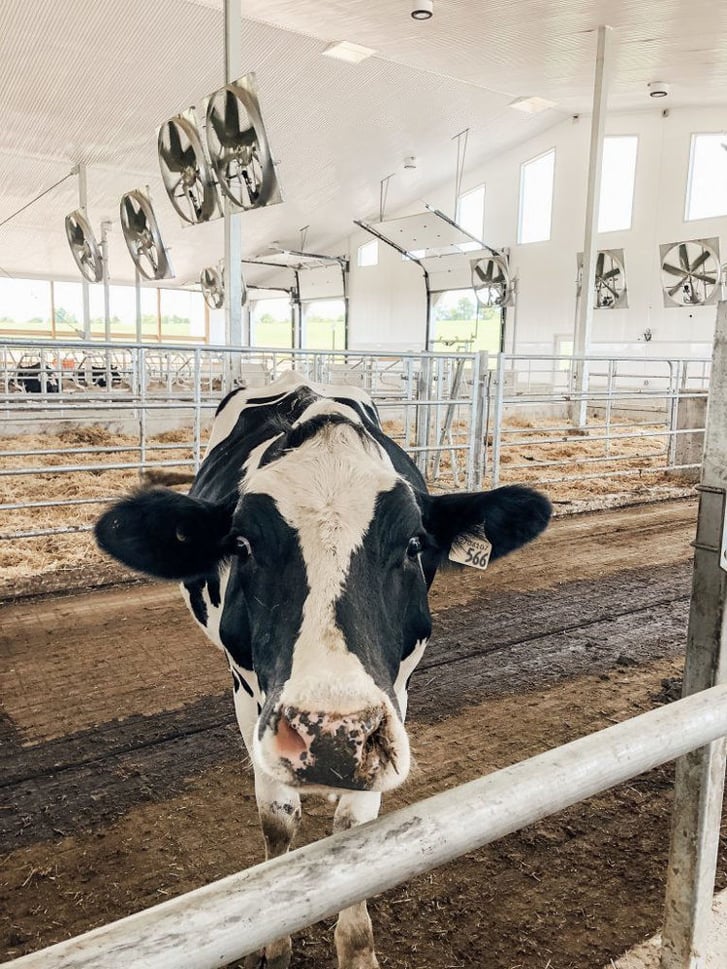 This is because these cows have a huge degree of autonomy. Technological and robotic investments mean the cows can feed themselves, groom themselves, water themselves, and even milk themselves! That's right: the cows milk themselves! With Emily there to explain, our curious group got to watch a few cows rock up to the milking robot.
Robotic Milking
It's a super cool process: basically the cows walk into the standing area where they are given a multivitamin (which is like a treat to them). They are scanned to ensure they haven't been milked in the past 6 hours. If they haven't been milked too recently, the process begins.
The robot sends a brush to clean off their teats, preventing bacteria. Sensors map the udders to determine where to place the attachments.
Once the cow is all clean, the machine attaches to the rudder and the milking begins! The milk gets funneled into separate lines and tanks depending on which type it is, A1 or A2.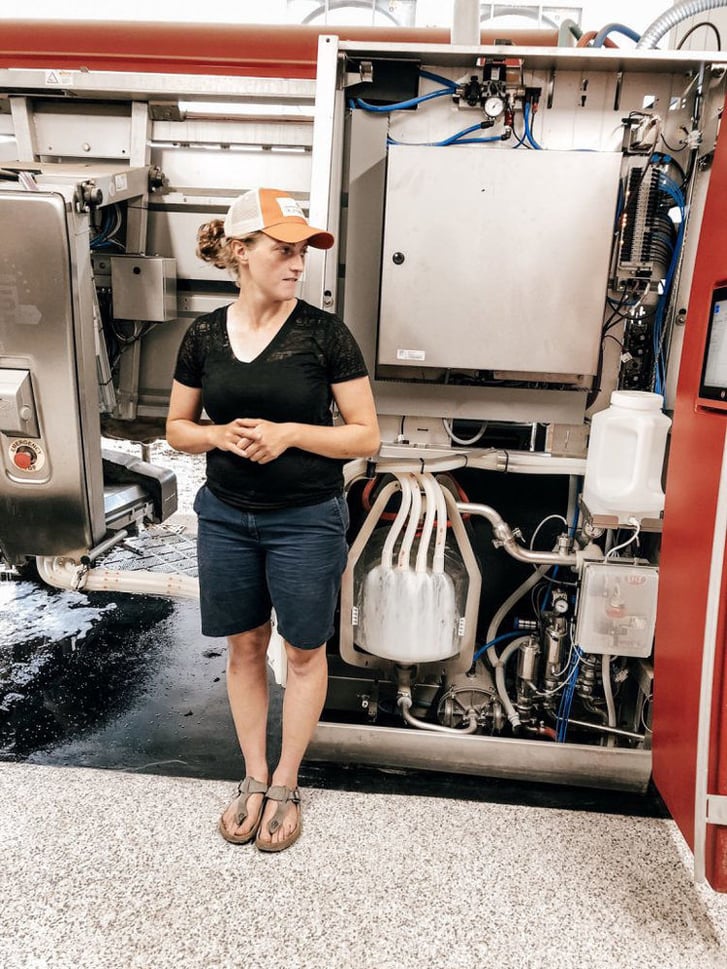 Another important function of the robotic milking system is regularly test the milk. They want to act as quickly as possible if a cow's milk sample indicates illness. If this is the case, she must be separated and treated with appropriate medication.
The medication must be completely out of their system before they're milked again. In Canada, there are huge fines associated with any milk that has traces of hormones or antibiotics. Sheldon Creek Dairy (like all Canadian dairy farmers) monitor their herds closely after any necessary antibiotic use.
Once the milking process is complete, after about five minutes, the automatic gate opens and the cow walks off to rejoin her herd.
Care & Respect
There's no doubt in our minds that their herd of Ontario dairy cows are treated with an enormous level of care and respect. Marianne and Emily know a lot about cow psychology.
Marianne pointed out that cows only moo when they are in distress or discomfort. What you want to hear in a cow barn is no mooing and the soft sound of chewing cud.
She asked us then to pause and listen. The barn was near silent, except for the sound of the cows chewing their cud and happily swishing their tails.
We loved kicking off the first 100km Foods farm tour of 2019 with this awesome lineup! A huge thank you to Marianne, Emily, Mark, Bill and David for hosting us on this tour.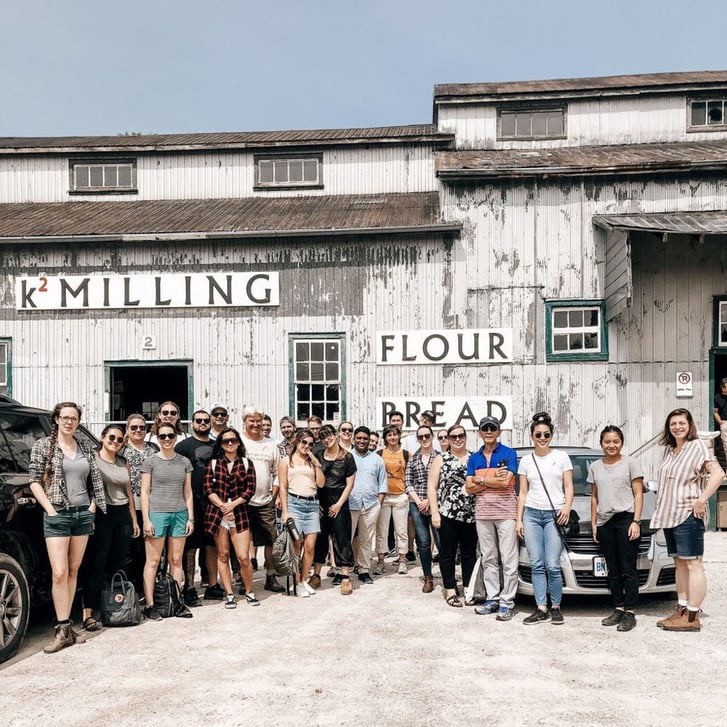 Stay tuned for the announcement for the next tour, where we'll be checking out some other 100km farm partners!