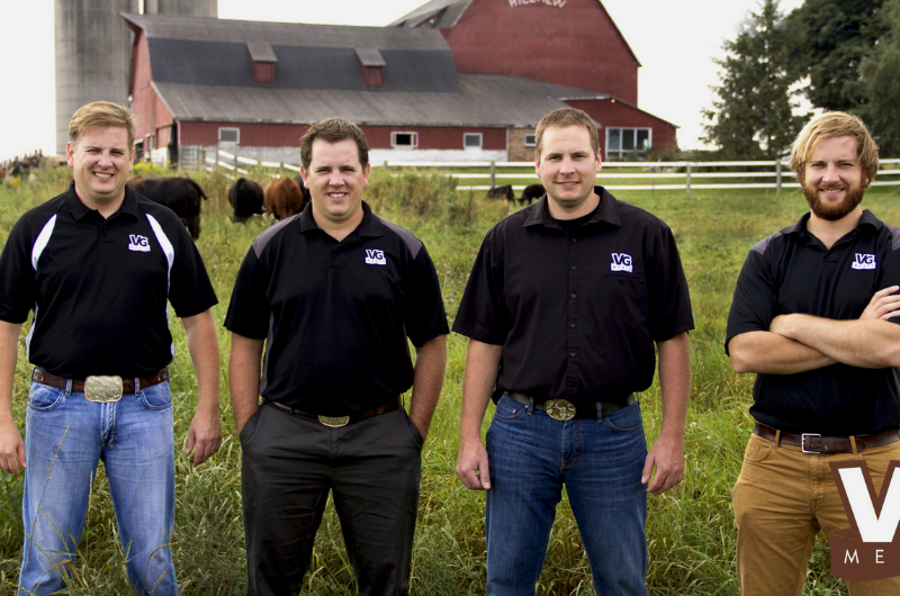 Did you know that VG Meats is able to butcher custom cuts of Ontario beef and dry age them for you, to your exact specifications? Not only that, they breed their own cattle, raise them, slaughter, and then process them?
That kind of traceability is quite unique within the Ontario beef industry! The beef tenderloin barrel is one of the most tender cuts of beef and these ones have chain meat removed to create a uniform piece – making it easy for you to turn into delicious, consistently sized portions (filet mignon, anyone?)!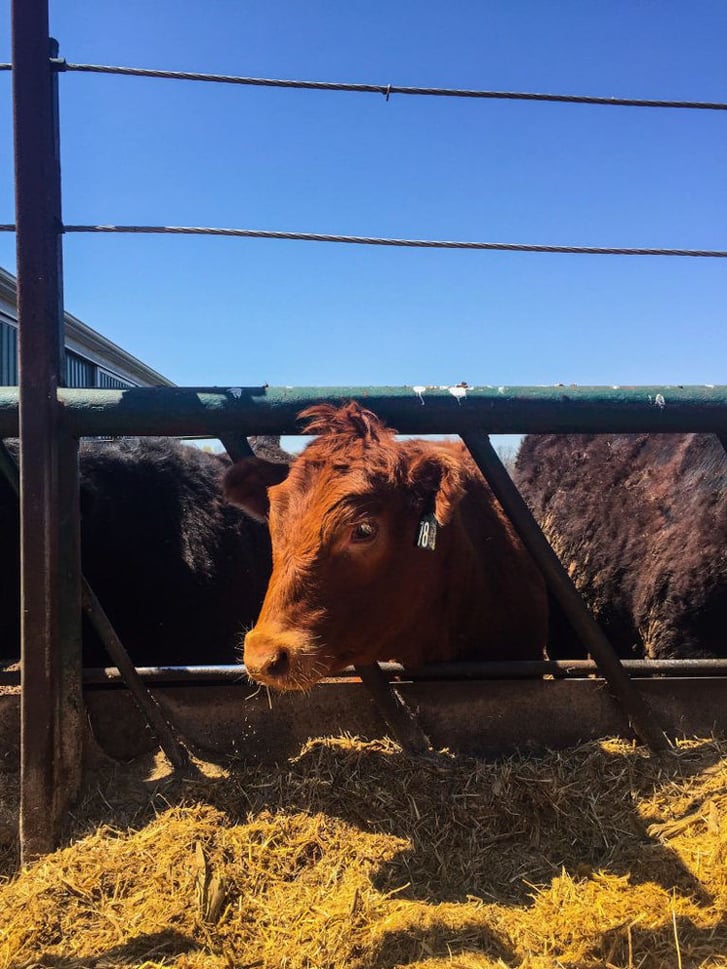 VG Meats: A Family Affair
VG Meats is family owned and operated, with four brothers - Cory, Chad, Kyle and Kevin – at the helm of the operation. Their family roots as butchers extends back generations. Their grandfather, Cornelius Van Groningen, worked as a black market butcher in Amsterdam during WWII, hiding livestock from German troops
In the post war years, Cornelius decided to set out to Canada, where he got back into the butchery industry. He opened a slaughter operation in Simcoe called VG Packers. Cornelius' oldest son, Wayne, followed in his father's footsteps by continuing the business.
In the mid 1990s, the Van Groningen family decided to branch out from solely running a processing plant to delve into Ontario beef cattle farming.
Fast foward to present day, and the four Van Groningen brothers each bring their unique skill set and expertise to the table in their pursuit of beef perfection.
Cory and his wife Heidi run one of the farms, and Cory also spends much of his time representing VG meats and the larger Ontario beef industry with officials and at conferences.
Chad, second born, leads the butchery and processing plant operations. He is also head of outreach and sales.
Kyle oversees all their retail operations both in Stoney Creek and Simcoe, and is the point person between the farm, the processing plant, and customer.
Last born, Kevin, is the food scientist of the family, and Morgan, his wife, is the marketing lead. Kevin studied agricultural science at Guelph, and he was the one to develop their unique tenderness testing method!
What Makes VG Meats Ontario Beef Different?
100km Foods staff, and a group of excited chefs, got to speak to the Van Groningen brothers during a farm tour. We met the cows and got to see how well they're cared for. Following that, we went up the road to their processing plant and delved more deeply into tenderness and grading beef.
VG Meats have their own bulls from whom they breed the rest of the herd. They put a big emphasis on developing their own genetic stock. The bulls from their farm are acclimated to Ontario's environment, and they believe this creates a resilient and healthy line of Ontario beef cattle.
They've also spent lots of time developing the best feed for the cows. They are out on pasture and grass fed most of the year. However, in the winter, they supplement their diet with feed mix which includes corn and other grains.
They are constantly learning and innovating best practices to ensure their herd and their land are healthy and happy!
Not only do they feel it's ethically important to have a happy, small herd, they believe beef quality and taste is affected by stress. This is why they make sure they do whatever they can to ensure the cows lead stress-free lives.
VG Meats bring their cows to slaughter based on weight and condition. But most cows are between the ages of 14 months to 24 months, with a carcass weight of around 800lbs.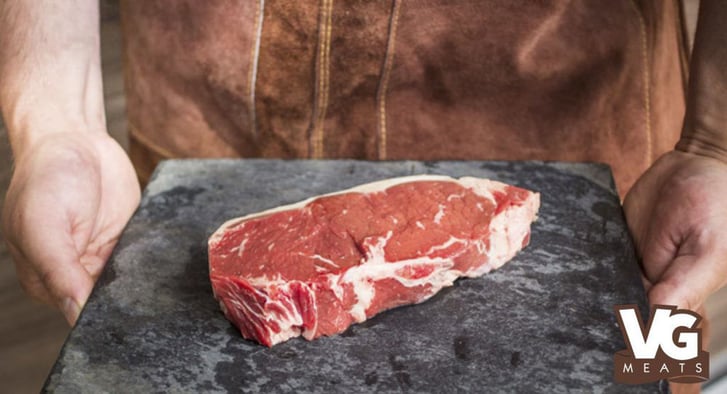 REGENERATive agriculture at vg meats
VG Meats Beef Tenderness Testing
Now what's this tenderness testing all about? Kevin is the mastermind behind their one-of-a-kind grading system.
The standard grading system dates back to the 1960s and is a visual grading system that looks at fat marbling. Kevin explains that new agricultural and food science research is moving towards different ways of grading beef. Kevin has innovated their in-house grading method based off of new research.
And, as Kevin demonstrated, you can look at two identical cuts of beef from the same cow and have completely different marbling! So at VG, they want to grade their beef using a different, more reliable metric to determine quality: tenderness.
Below is an infographic that demonstrates their tenderness scale. They will only put steaks and cuts on the market that fall into the "red zone" of tenderness.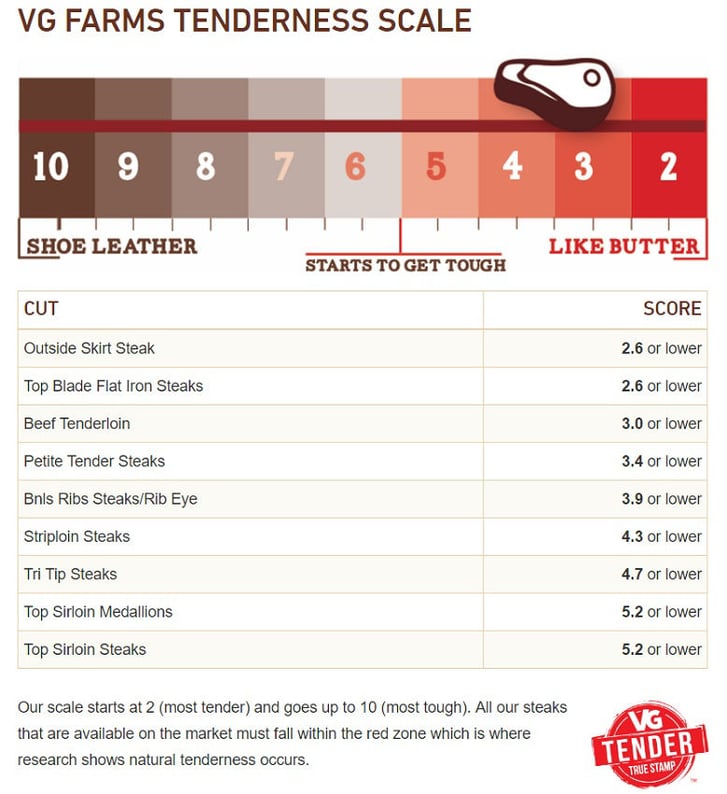 Grass Fed Beef for Toronto Restaurants!
So now's your chance to grab some tenderness tested, Ontario beef from VG Meats! Enjoy some beef where health, herd happiness and taste are all top priority!
Thanks to the Van Groningen family for hosting us for a great farm tour!