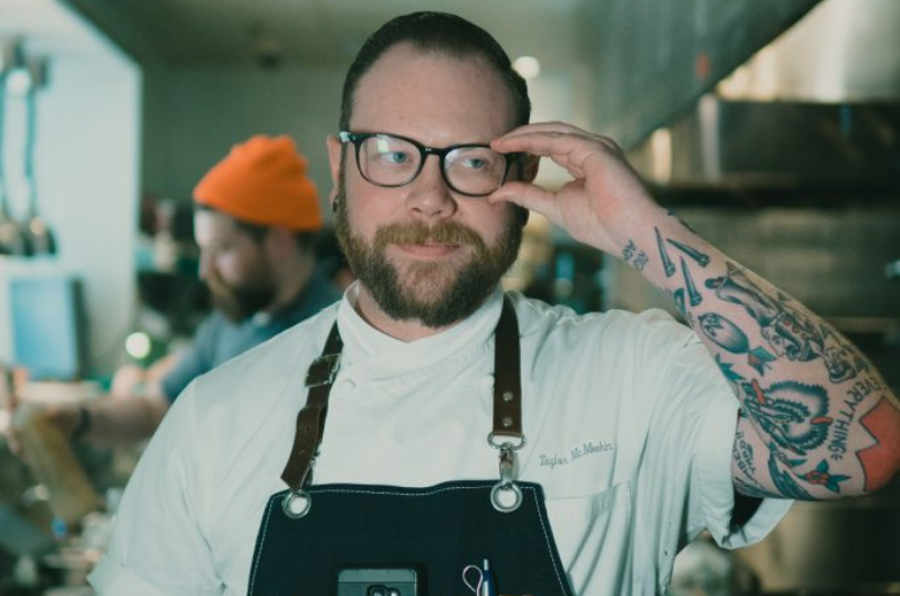 Next in our 100km Foods Brand Ambassador profile series, we sat down with Chef Taylor McMeekin, local food champion and the executive chef of The Chase in Toronto.
Known as a fine dining establishment, The Chase primarily focuses on fish and seafood. However, they've recently made a commitment to sustainability and their restaurant menu is now 25% plant based!
Like all 100km Foods Brand Ambassadors, Chef Taylor has a long history working with 100km Foods as a distribution partner at various establishments.
Prior to taking the position of Executive Chef The Chase a year and a half ago, Taylor was working at the Air Canada Centre where he made sure 100km Foods and local food had a place in his kitchen.
Why Local Food?
Taylor's commitment to local food stems in large part from his rural upbringing. He has many cherished memories as a kid of hiking and exploring Grey County with his parents. He fondly remembers foraging and cooking whatever they found in the bush. To this day, Taylor still really enjoys foraging!
He also spent a lot of time on farms growing up, as most of his family members and community were farmers. This is where he learned a lot about produce and animal husbandry.
Taylor started working in kitchens when he was 13 years old as a dishwasher. He loved the intense energy of the kitchen right from the beginning, and this has kept him working in kitchens ever since!
One of the things that keeps him going are the amazing people he's met in the restaurant industry. As Taylor says, 'the passion that surrounds you keeps the passion within.'
Taylor's rural roots are a huge factor into why he has pushed for a commitment to sourcing local food. A restaurant kitchen is a constantly changing ecosystem of its own. Yet, no matter where the tides have taken him, Taylor has always found a way to bring local food with him — most recently, The Chase.
It's always been important to him to support the local economy through the purchasing power of city restaurants. For him, it's a way to 'come full circle.'
Of the different distributors Taylor has worked with, he says '100km Foods has always been the most reliable. Always gave us the best information, always good working with them.'
How to Plan a Seasonal Menu?
Taylor's advice for chefs looking to plan a seasonal menu and source more local food, he said jokingly, 'work harder to get it done!'
But all jokes aside, it is about being strategic about menu planning does take some extra effort. But, the payoff is certainly worth it. As Taylor puts it, "It's going to be closer to you. It's going to taste better and, it's going to be fresher. You're also reducing your carbon footprint through transportation and supporting the local economy. It's really a 'no brainer' for a sustainable choice."
As a chef, Taylor feels its important to have a general idea of seasonality. However, when it's mid-February and you're planning your spring/summer menus, it's helpful to pull up and refresh your memory!
He also appreciates the ongoing conversation 100km Foods provides about seasonality through regular communication with customers. He loves keeping up with how the season is progressing, especially when the weather is unpredictable.
We chatted about a Spring a few years ago where frequent torrential downpours affected regular product availability. Taylor recalls a foraging trip he took with his uncle that Spring to find ramps. He lost not one, but both of his rubber boots and was forced to finish the trek barefoot!
Favourite Products and Dishes?
We turned next to discussing Taylor's favourite products to source through 100km Foods. A big fan of Mark Hayhoe from K2 Milling, Taylor goes through a variety of fantastic K2 products. He also loves all the Fogo Island Fish products.
The honey vinegars from Ontario Honey Creations are another of his staple products, and all of the oils from Pristine Gourmet. The Chase also gets all their dairy from Hewitts and use Golden Dawn butter from Alliston Creamery on their menus.
We asked Taylor what his favourite dish to cook was, and he said he didn't have an answer. He loves everything he gets to cook and never fails to enjoy the satisfaction he gets from having all the components of a dish come together.
So, we asked him then, what are some of his favourite foods to eat? He said (unsurprisingly, since The Chase is seafood restaurant) he loves to eat fish and seafood. However, his 'desert island' choice would be all the varieties of onions and farm-fresh eggs. You can't go wrong with that choice!
We turned next to discussing who he'd want to have dinner with. He said his 'chef' answer is definitely the late Anthony Bourdain. However, he'd also love to chat the authors William S. Burroughs and Hunter S. Thompson.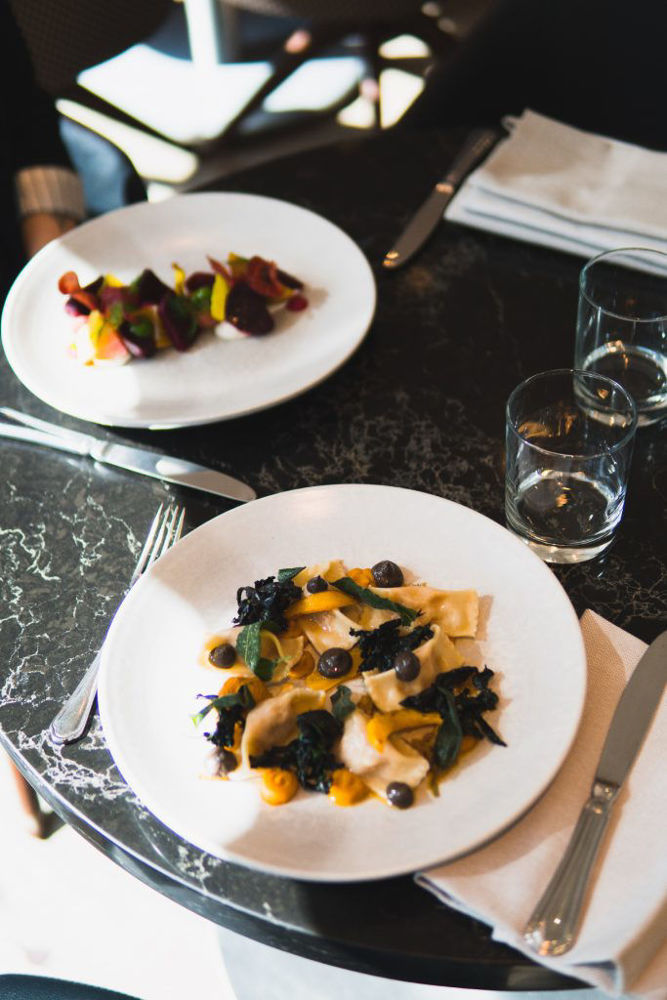 And if he wasn't a chef? Taylor thinks he'd go right back to his roots and be a farmer. He loves the physicality of the job and the need to consistently be on top of things. He feels this is a very close fit to what he treasures most about being a chef.
What's Next for Chef Taylor McMeekin?
At the end of the day, Taylor wants to continue to innovate how restaurants source and plan menus, prioritizing sustainability. Taylor shares that he often thinks about the impact that human society is having on our planet. He hopes to get more involved with more programs that focusing on sustainability.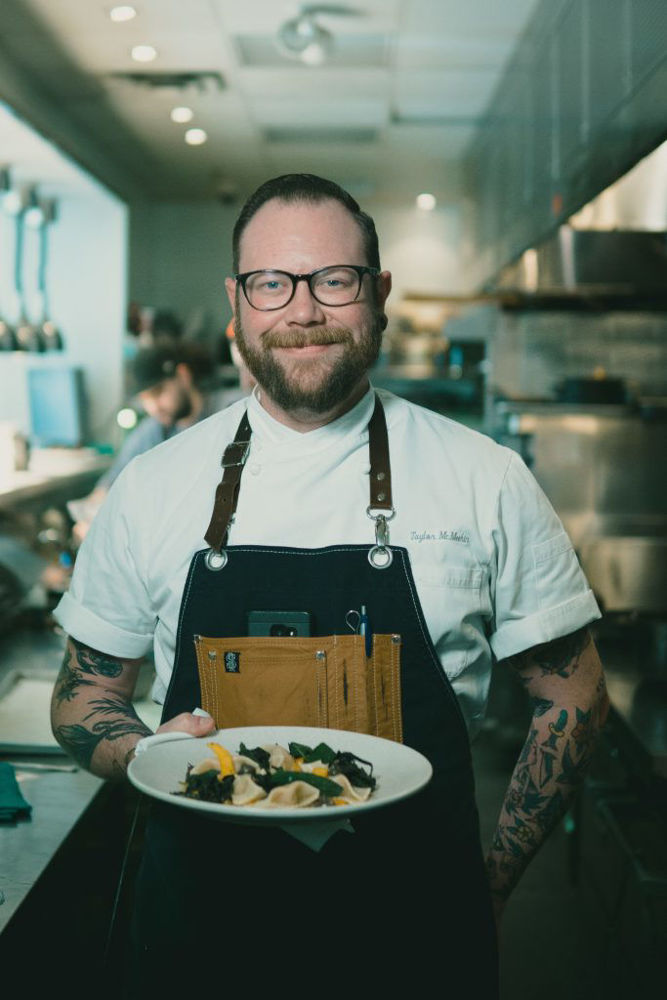 We always love chatting with Taylor and he spoiled us with a delicious plant-based lunch afterwards at The Chase! Taylor is such a warm, kind and funny person whose culinary talent and commitment to local food and sustainability shine through in everything he does.
We feel so lucky to be able to include him one of our 2019 100km Foods Brand Ambassadors!