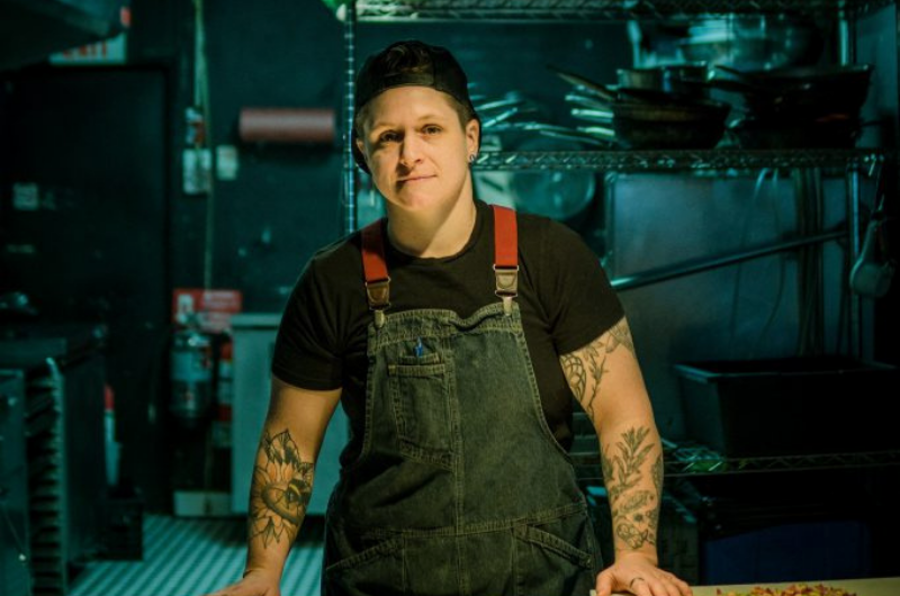 Welcome to the very first in our profile series on our 100km Foods Brand Ambassadors! We will be releasing each of these in turn over the coming weeks, so you have an opportunity to get to know our unique, talented, and passionate crew of Chef brand ambassadors.
Without further ado, let's get to know Chef Ash Macneil from Farmhouse Tavern!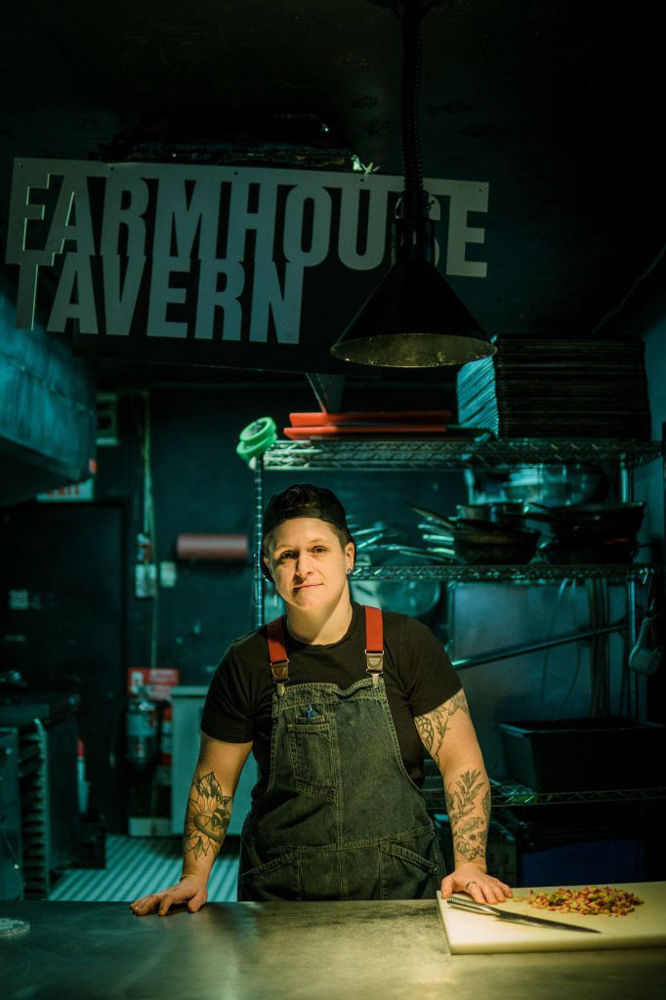 Chef Ash came to a pursue a culinary career after working for a decade in an office job and considering becoming an OPP officer. After realizing this career wasn't for her, Ash's friends and family encouraged her to explore her love of cooking in a more serious way. Ash took the plunge and started her culinary career by washing dishes five years ago this past Valentine's Day!
As Ash puts it, getting thrown into the dish pit on such a busy night and showing up again for her next shift was the first clue that she had what it took to thrive in the fast-paced environment of a professional kitchen. Within a few months, Ash was on the line and getting into her stride working with food. She realized quickly how much she loved working in such a physically demanding and creative job.
Becoming a Chef has of course had its own set of challenges, but overall Ash stays passionate because she pushes herself to exceed and learn every day. Since she took over as Chef at Farmhouse two years ago, she has particularly enjoyed developing a collaborative learning approach with the newer cooks she hires.
Chef Ash, and Farmhouse Tavern located in the Junction neighbourhood of Toronto, have been long time 100km Foods customers and one glance at their menu tells you how much they prioritize local ingredients in a genuine farm-to-table atmosphere.
Since Ash in some ways grew up as a Chef in Farmhouse, she is especially grateful to her previous Chef, Eoin. Eoin introduced her to the breadth of local products to source through 100km Foods and she was blown away by what she deems 'fantastic' quality ingredients. Eoin shared his knowledge with her to build a farm-to-table inspired menu, and the close relationship Ash has developed with us on her own terms is a huge reason why she is one of our very first ambassadors!
Planning A Seasonal, Local Menu
When it comes to sourcing and costing local ingredients, Ash loves how it challenges her to be creative and strategic. It's winter in Ontario. What do you do if root vegetables is all that is in season? She encourages other Chefs: find new and different ways to use root veggies; figure out how to do squash eight ways.
She firmly believes that ingredients sourced in season are not only better for you, they taste better. Ash also has a close relationship with her 100km sales rep – in this case – Rachel! Ash says, (and of course, we agree) that Rachels excellent breadth of knowledge about what's in season has proven to be a valuable resource for Ash when making decisions.
Ash also loves that, through 100km, she has been able to make connections with a larger network of farmers. As she says, "It's created a kind of community for me that I can rely on for help, because I am still learning, and it's really creating a network of support for me that I find really helpful!" Facilitating connections like these is at the core of 100km Foods is all about.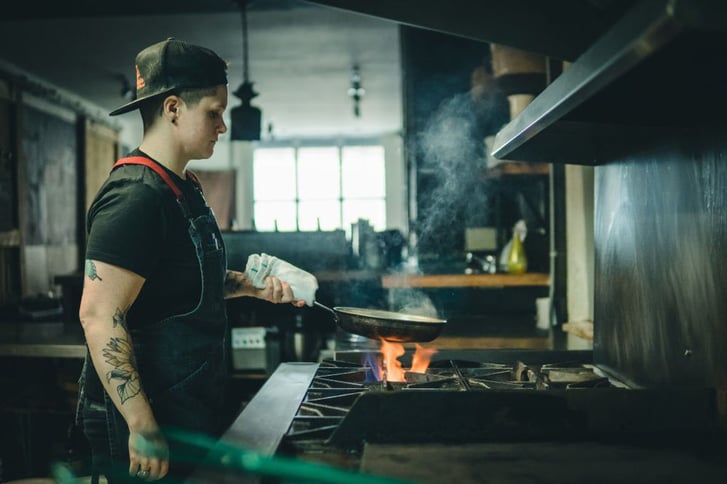 When we asked Ash about some of her favourite products she sources through 100km, the answer was very easy: CHEESE! Ash loves finding ways to work cheese into all kinds of dishes, which is something we can all get on board with.
Lately, Ash has also been loving radishes – right now her menu features 5-6 types of radish in a variety of ways. Another one of her newest favourites are the frozen berries from Barrie Hill and Boreal Berry Farms – she makes a killer bread pudding for brunch service – which allows her to capture the freshness of summer even in the colder months.
She's also been one of the earliest converts to the King Cole Ducks whole duck with head and feet on. She says, "We tried using these ones and the meat is just unbelievable, it's SO good. Here, we do a whole duck, so you get the legs and wings confit, and then to order we pull the breasts off and pan roast the breasts and deep fry the carcass, so you get the whole duck on the board with some seasonal veg. People are loving it, and we love when we can say its from King Cole...that's actually probably one of my new favourite things!" We asked Ash what else she loves to cook, and she said although she doesn't cook much at home, she does love making anything with eggs.
She's also gotten really into pickling and making soups and sauces. She particularly loves pickling blueberries – and serves them with some of their cheese boards.
Dinner Guest?
When we asked her who she'd love to have dinner with, dead or alive, Ash decided she wanted to have dinner with someone who seems like they'd be adventurous – pick one of everything, share the meal, and have a good time. Ash settled on the Canadian actress Sandra Oh, which we think is an awesome answer!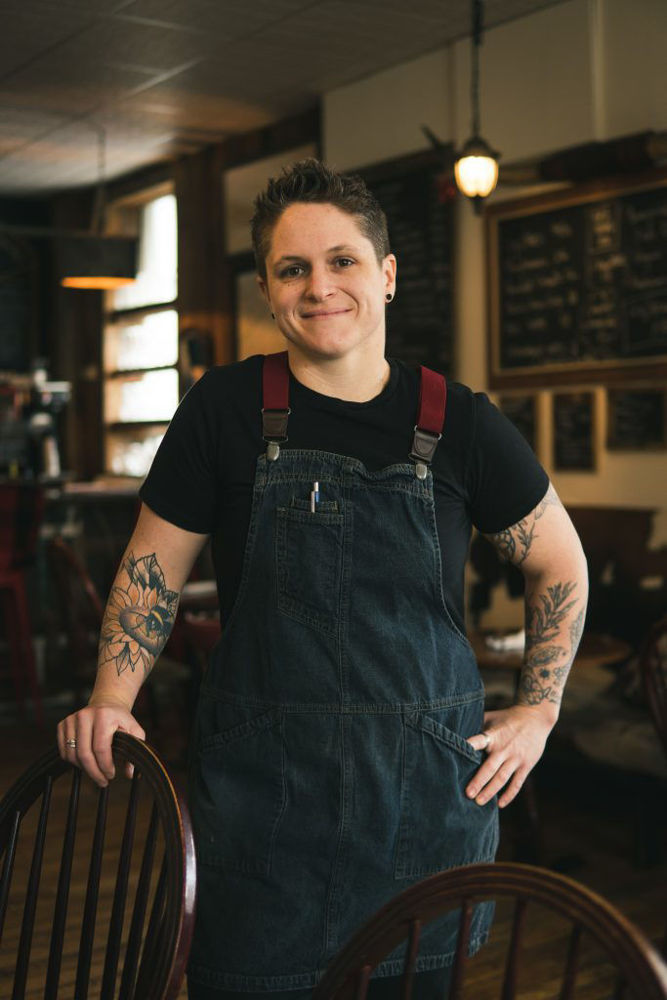 We truly enjoyed having the chance to sit down with Chef Ash and talk to her about what it's like being a newer chef in the Toronto food industry. We love that she is both humble, creative, and eager to learn. Her enthusiasm for connecting with our network of farms and showcasing what Ontario has to offer reminds us every day of how lucky we are to bridge the community of Chefs and Farmers in such a special way.
We can't wait to see what else Ash gets up to this year as one of our 100km ambassadors!